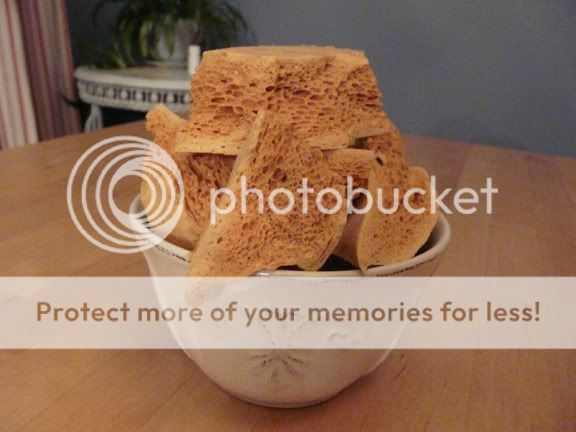 One of my favorite chocolate bars is a Canadian one called Crunchie. I have fond memories of buying small bricks of it from the Bulk Barn with my Nana, who still loves the stuff. This recipe is so quick and easy, either plain or dipped in chocolate.


2 1/2 C white sugar
2/3 C corn syrup
6 T water
2 tsp vanilla
2 T baking soda
Line the bottom of a 9X13" pan with parchment paper, making sure the parchment sides are at least 2 inches above the sides of the pan. Grease with a little bit of oil, or some cooking spray. Set aside.
Add the sugar, corn syrup and water to a deep, heavy bottomed pan. Stir ingredients together then bring the mixture to a boil over medium heat, without stirring. Cook until the hard crack stage-- 300 degrees F on a candy thermometer. It should take about 10 minutes. During the cooking process, if there are any sugar crystals on the sides of the pan, brush the sides with a clean pastry brush dipped in water.
Remove from the heat and quickly stir in the vanilla and then the baking soda. The mixture will bubble up quite a bit after adding the baking soda. Immediately pour into the pan. Let cool and set completely. Peel off the parchment and break into pieces. Dip in melted chocolate if desired or eat plain. Store in an airtight container at room temperature. Bon Appetit!