I found these tasty breadsticks in my last summer's issue of the Food Network magazine. I haven't been to Olive Garden in ages since they since they are no longer in Canada, so I don't know if they actually taste like their breadsticks, but they are really good and I will be making them often.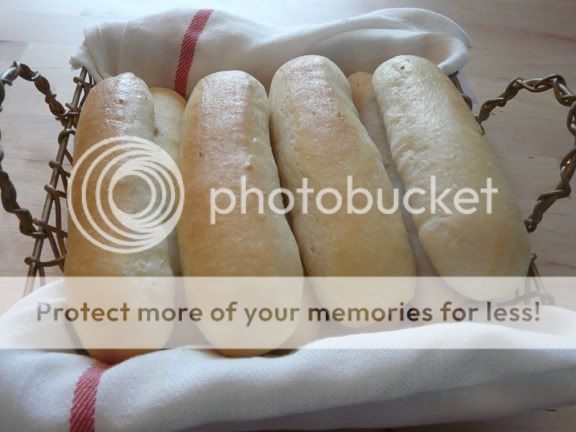 1 pkg yeast
4 1/4 C flour
2 T butter, softened
2 T sugar
1/2 T salt

Place 1/4 C warm water in the bowl of a mixer; sprinkle yeast on top and set aside for 5 minutes or until foamy. Add the flour, butter, sugar, salt and 1 1/4 C plus 2 T warm water; mix with the paddle attachment until a slightly sticky dough forms.

Knead the dough by hand on a floured surface until very smooth and soft, 3 or so minutes. Roll into a 2- foot-long log; cut into 16, 1 1/2 inch-long pieces. Shape each piece into a 7-inch-long breadstick; arrange 2 inches apart on a parchment lined baking sheet. Cover with a cloth; let rise in a warm spot until almost doubled, about 45 minutes.



Preheat the oven to 400 degrees.

Melt 3 T butter. Brush on the breadsticks. Sprinkle with garlic salt, and if desired
oregano. I think parmesan cheese would be really good in place or with the oregano. Can't go wrong with cheese!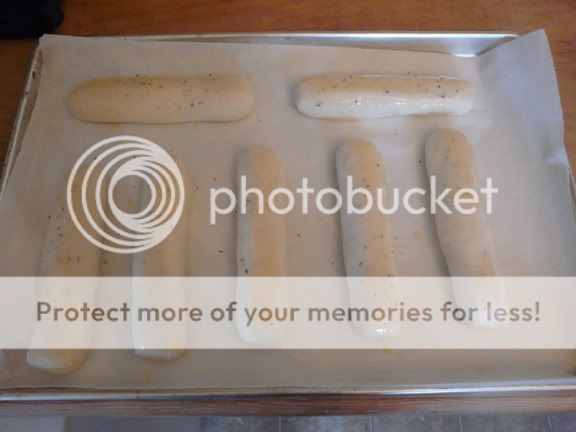 Bake until lightly golden, 13-15 minutes. Brush with more butter if desired after baking. Enjoy!